How to Log in As Another User Account (Admin)
Applicable to: Institution Admin and College Admin 
Quick Video… 
Note: This video does not contain audio
Step-by-Step…
Step 1: Log into your AEFIS account
Step 2: Navigate to Admin Tools > User Accounts
Step 3: Use either the +Add Filter or the search bar to locate the desired user account
Step 4: Navigate to the Actions column and select the Manage drop-down arrow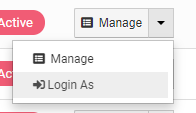 Step 5: Select Login As
Note: You will then be logged in as another user, and the following button will be displayed at the top of your screen:

Restore Session will you log out of the user's account and return to your AEFIS account.
Step 7: When you are finished navigating through that user's account, select the blue RESTORE SESSION button as seen above
Please Note: You can only be logged in as one user at a time. You cannot login as another user in another tab. Attempting to login as multiple users at once will lead to an error message. Therefore, please remember to always select the Restore Session button when you are finished navigating through another user's account.
Helpful Tips
If you have any more questions or concerns, please do not hesitate to contact the AEFIS Client Success Team