How to Add Course Learning Outcomes (CLOs) to Courses
Applicable to: Institutional Admin, College Admin, Department Admin, and Program Admin
Quick Video…
Note: This video does not contain any audio.
Step by step…
Step 1: Log into your AEFIS account
Step 2 Open the AEFIS Main Menu by selecting the three white horizontal lines in the top left-hand corner
Step 3: Navigate to Courses>Courses
Step 4: Use either the +Add Filter or the search bar to locate the desired course
Step 5: Select the Manage button
Step 6 (Optional): If the course is not already "In Revision" or "Draft" status, then select the blue Revise button in the top right corner

Step 7: Select the Course Outcomes tab in the panel on the left-hand side
Step 8: Select the blue + ADD button in the top right-hand corner

Step 9: A new pop-up window will appear, enter the description for the CLO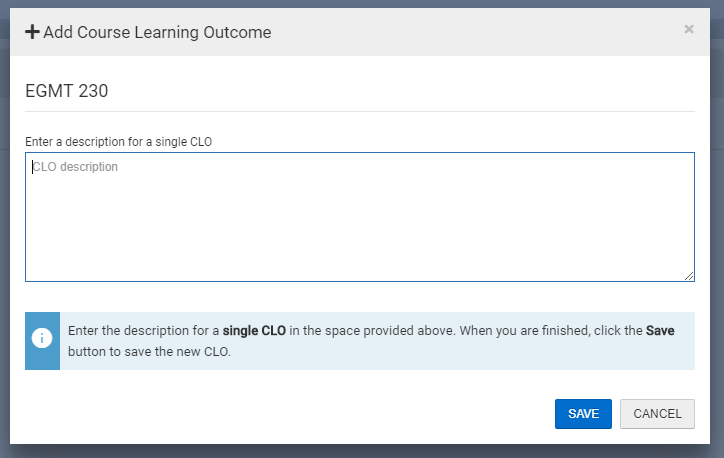 Step 10: Select the blue SAVE button
Step 11: The newly created CLO will populate in the CLO queue, and an automated CLO code/title will generate by the system

Step 12: If you would like to edit the CLO description, you can also select the pencil icon next to the description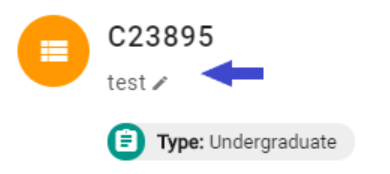 Step 13: To save your edits, select the blue check mark button
Step 12 (Optional): Hover over the blue icon with the three white vertical dots (Action button) – where you can either edit the CLO or delete the CLO

Step 13: Once you have made the desired CLO additions, select the blue Publish button in the top right-hand corner to republish the course.

Helpful Tips
When you revise a course, a new version of that course will be created. This new version will preserve any historical course data over time. Once you have made any edits and/or additions to the course, they will be saved in the new version upon republishing the course.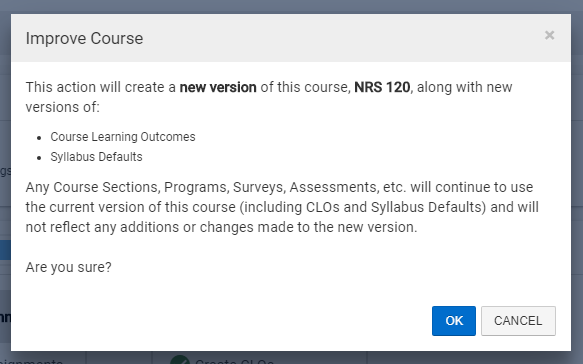 If you have any questions or concerns, please do not hesitate to contact the AEFIS Client Success