How to Pull Questions from the Question Library (with tags or keywords) into a Course Section
User Roles: Institution Admin, College Admin, Department Admin, Course Coordinator, Course Designer – Course, Course Designer – Section, Instructors
Applies to: Course Sections, Co-Curricular Sections if the template used when surveying that section includes the Roll up Question Placeholder
Outcome: Questions from the Question Library are added to Sections and available in the next survey of that section
Description: The Question Library is an archival tool within AEFIS that helps Admin create and save questions in the system that can be used in surveys. This guide provides users with instructions on how to pull questions from the Question Library into course section Survey Questions.
Created with v3.64
Step by step…
1. Log in to AEFIS
2. Navigate to your Course Section either through the main menu under Courses>Course Sections and searching for your Course, or through the My Course Sections and Syllabi widget on your dashboard (Instructors)
3. Click on the Survey Questions left-hand menu item on your Course Section
4. You will see the following menu pop up:

5. Click Let's Begin
6. Next select the blue Edit button at the top left of the Survey Questions screen

7. When the Survey Question editor screen loads, select the View Library button at the top left of the screen:


8. A Question Library search option will populate on the left side of the screen:

9. You may then search for a Tag or Keyword that your Institution, College or Department created so you may add specific questions to your course section's survey: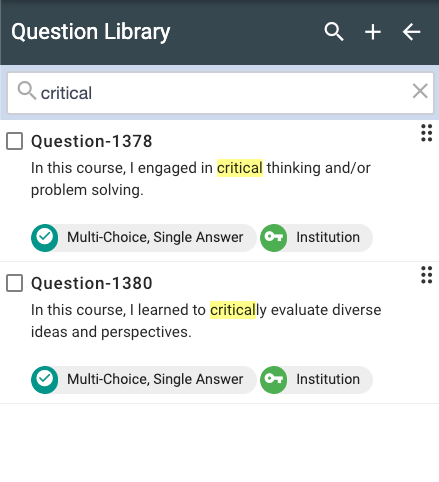 10. You will see the question, the owner of the question, and the response type displayed in the results.
11. If you hover over this icon a small hand will appear, which will allow you to drag that question to your section question area.

12. Once it is in that area, you will be able to make changes to that question's configuration by clicking on the gear icon:


13. When you are done adding questions from the Question Library, you may click Exit at the top of the screen
14. If all of the additional questions you would like added to your Course Section are now displayed and the configuration update is complete, you may select the red Publish button:

Note: The questions added MUST be published in your Course Section BEFORE the start date of the survey.
Related Guides