How Do Instructors Edit Course Section Syllabi
Once a Syllabus Template has been created and assigned to a Course, faculty members may edit their Syllabi to include assignments, schedules, textbook details, and other relevant information for students to view. This guide outlines the process an Instructor or Course Section Director may take to edit their Syllabus Template.
Created with v3.53
Applicable to: Instructors, Course Section Directors
Quick Video…
Note: This video does not contain audio
For best video quality, select settings gear icon in the bottom of the video, select Quality > 1080p HD.
Step-by-Step… 
Step 1: Log into your AEFIS account
Step 2: In your Dashboard, locate the My Courses and Syllabi Widget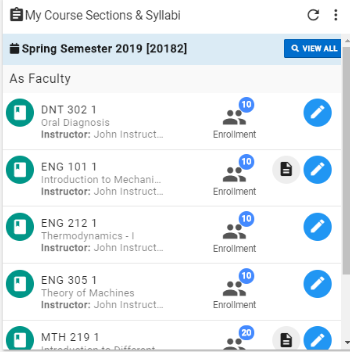 Step 3: Select the blue Pencil icon next to the Course Section in which you would like to work

Step 4: Navigate to the Course Syllabus button in the panel on the left
Step 5: Select the blue EDIT button in the top-right corner
Step 6: Make the desired edits to the following syllabus sections.
Step 7: After you have made the desired edits, select the blue SAVE AND PUBLISH button.
Note: Once you have published the syllabus, Students enrolled in your course section will now have access to the syllabus on their AEFIS Dashboard.

Step 8: If you would like to continue your work within your syllabus at a later time, select the white SAVE & EXIT button.
Note: The syllabus will not be available to students until the syllabus is published.

Helpful Tips:
Exporting your Syllabi: If you would like to export your Syllabi upon completing your edits, you may do so by selecting the Export drop-down in the top right corner. You may export your Syllabus as a PDF or MS Word document. You may also select the Preview eye-con to view the Syllabus from a student's view.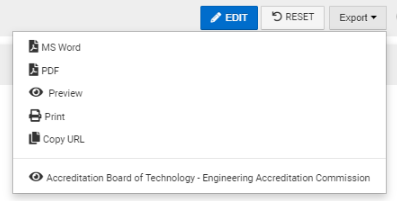 Reset Button: If you would like to delete all added data in the syllabi, select the Reset button in the top right corner of the Course Syllabus page.

Please note: The Reset button will delete all syllabus data and reset the content to the Course Syllabus defaults. Once deleted, the data cannot be recovered.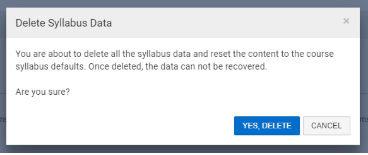 The reset button will only delete the information which was entered at the Course Section level. Information that is added on the Course level will remain untouched.