FAQ – How to Optimize Assignments and Rubrics in D2L Brightspace for Assessment in AEFIS
Updated: August 2021
Description: Partners using D2L as their Learning Management System have a lot of options for the creation of assignments and rubrics, so the intention of this guide is to share information about which types of rubrics, assignments, and scoring processes work best with the AEFIS integration for collection of assessment data and student artifacts.
Applicable to: D2L administrators and instructors – to implement these items integration with D2L needs to be completed by the campus D2L Administrator.
Which Assessments/Assignments in D2L integrate with AEFIS?
Assignments created under Assessments>Assignments in D2L Courses integrate with AEFIS

At this time, AEFIS Does not integrate with:

Quizzes**
Self Assessment
Discussions
Surveys
**Quiz final score integration is expected to be available in Fall 2021.
How do I set up a D2L rubric to work with the AEFIS integration?
Rubrics can be created in the Rubrics manager in D2L Brightspace and brought into an Assignment, or the Rubrics can be created directly in the Assignment while you are building it. The rubrics MUST be Assignment rubrics to integrate with AEFIS.
D2L Rubric Requirements
The rubric criteria levels MUST have point values
The rubric must be Analytic when selecting Type
The rubric does not have to be the default scoring rubric to transfer data to AEFIS
D2L Rubric Recommendations
We recommend adding descriptive text to each Rubric Criterion level rather than leaving them displayed as Criterion 1, Criterion 2 etc, as the level labels are what display in the AEFIS User Interface. See below:

We recommend using the Custom Points setting when setting up your rubrics to optimize the integration

Can I use a holistic rubric in D2L?
Technically yes, but not using the D2L Holistic rubric type. D2L rubrics offer an option to obfuscate the display of rubric points to students. So instead of choosing Holistic as your Rubric type when building your rubric, you may create an Analytic rubric, and select the Hide Scores from Students option under Score Visibility for that Rubric: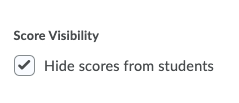 Can I connect a D2L Grade Item directly to AEFIS without an associated Assignment/Assignment folder?
No. At this time D2L does not offer an API endpoint to external vendors that allow data to pass from Grade Items that are not associated with an Assignment or Quiz. If you create a grade item directly within the Manage Grades screen, without an associated Assignment, the AEFIS integration can not access that data.
Can the AEFIS integration pull data from Discussion Board scores?
No. At this time, Discussion Board scoring has to take place exclusively in a Grade Item, and at this time D2L does not offer an API endpoint to external vendors that allows data to pass from Grade Items that are not associated with an Assignment or Quiz.

What types of student submissions/artifacts can the AEFIS Integration download from D2L?
AEFIS can download submissions made directly into D2L by students, as long as that D2L Assignment is linked to an outcome in AEFIS. This will allow you to identify samples of student work representing different levels of outcome achievement to support accreditation and continuous improvement efforts.
AEFIS supports the download of the following file types:
Word
Excel
Powerpoint
PDF
Image files such as .GIF and .JPG
Video files such as .mov and .mp4
Audio files such as .mp3
AEFIS can not download/import the following:
Discussion board posts or text box answers/responses to Assignment prompts. There must be a file associated with the student submission/work to import that data/artifact to your system.