AEFIS 3.24 Release Notes – October 2017
3.24 Training Release: Monday, October 2nd, 2017
Next Release:
3.25 Training Release: Monday, November 6th, 2017
Detailed List of Client Feature Requests and Issues Resolved
New Features

Full-Screen Edit Mode in Syllabus Form and CV Form

How to use this new feature:

Go into a syllabus form or CV Form and click "Edit" in the top right corner
Click on the last icon on the far right of the Tiny MCE Editor
2. Improvements
Ability to Sort by Name in Assessment Schedule

On Assessment Schedule>>What to Assess page, you can select what outcome should be assessed and what should be removed when scheduling an assessment. The list is now ordered in a much more user-friendly way by allowing the user to go through course by course.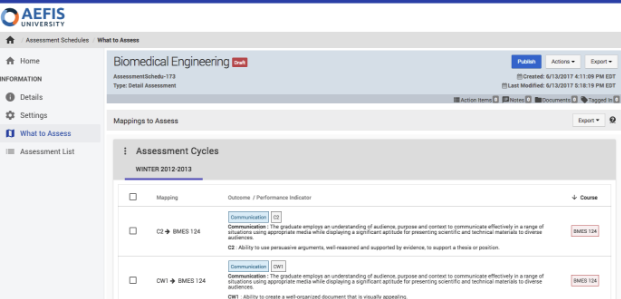 Secondary instructors will receive "Survey Start Notifications" and "Survey Results Available" for Student Course Evaluations

Both primary instructors and secondary instructions will review the "Survey Start Notification" and "Survey Results Available Notifications" for all Student Course Evaluations. 

Faculty Course Evaluations with Course Sections that have 0 Enrollment will not create a survey form

If an instructor or course sections have 0 enrollment, they will not receive a Faculty Course Evaluation if it is assigned to the survey.

Master Course Sections will Auto Assign Child Course Sections in a survey

When a Master Course Section is assigned to a survey, it will automatically assign the child course sections as well.
3. Bug Fixes
User Login by Month Graph in the User Account

The graphs displaying on the User Profile page have been fixed to correct the date ordering and presentation.

How do I see this graph?

Search for a user through the User Account Manager
Click "Manage" to right of the user's name 
On the Homepage, scroll down to view the graph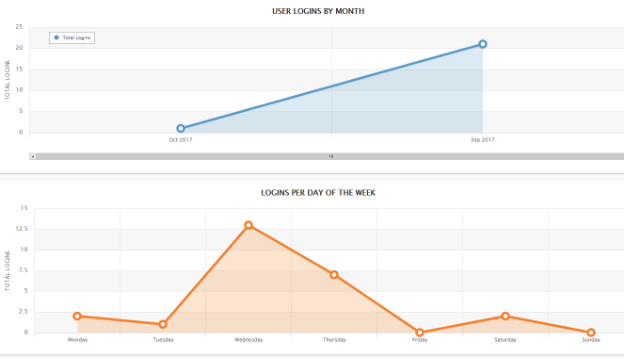 Course Section Trend Analysis Report Total # Surveyed Fixed
The total number of surveyed matches the number of students enrolled in the course section.

How do I see this report?

Go to Reports Dashboard
Click "Course Section Trend Analysis" – Enter Search Parameters 
Export the results to CSV 
4th Row will contain the Total Surveyed value and this will make the number of students enrolled in the course section. 

Course List in Faculty Results Notification Email
The "Survey Results Available" Email to Course Faculty display the list of courses they can view results.

What do I do if I deleted this "Dynamic Text" from my Email Template?

Go to Tools -> Institution, College or Department (depending on your permissions) 
Click "Manage" 
Click on Survey Settings 
Choose Beginning, Middle or End of Term 
Scroll to the "Survey Results Available" email template and click the blue pencil. 
Click on "Dynamic Text" -> add {{Survey Course}}